Trip Summary
This beautiful 20-day tour in Peru starts in the capital, colonial Lima from where you travel via Ballestas Islands, the oasis at Ica, the classic Nazca lines to the fantastic scenery of the Colca Canyon and to Arequipa. After visiting the islands on Lake Titicaca, you will arrive at the beautiful city of Cusco and Machu Picchu; the tour with a stay in the jungle!
After arriving in beautiful Lima, travel along the coast, where you can see the Ballestas Islands sea lions, the oasis at Ica and the underground Nazca Lines to Arequipa. In the Colca Canyon we spot the impressive condors and you sleep that night with a local family on Lake Titicaca. The result of this tour of Peru is the beautiful city of Cusco and the Inca citadel of Machu Picchu. This 20-day tour in Peru ends with a multi-day visit to the Peruvian jungle and a stay in a jungle lodge.
Route
Lima - Paracas – Ica – Nazca – Arequipa – Colca – Puno – Cusco - Sacred Valley – Machu Picchu – Puerto Maldonado – Tambopata - Lima
Transport
Long-distance busses
Short distance bustrips
National flights
Boat
Accommodations
Hostel or hotel in different options from budget standard tourist hotels to comfort and luxury.
A local guest family (1 night).
Jungle lodge.
The Itinerary
Day 1: Lima
Day 2: Lima
Day 3-4-5: Paracas, Ica, Nazca
Day 6: Arequipa
Day 7-8: Colca Canyon
Day 9-10: Puno & Lake Titicaca
Day 11: Cusco
Day 12: Cusco, Rainbow Mountain
Day 13: Sacred Valley
Day 14: Machu Picchu
Day 15: Machu Picchu
Day 16: Cusco
Day 17–18–19: Maldonado
Day 20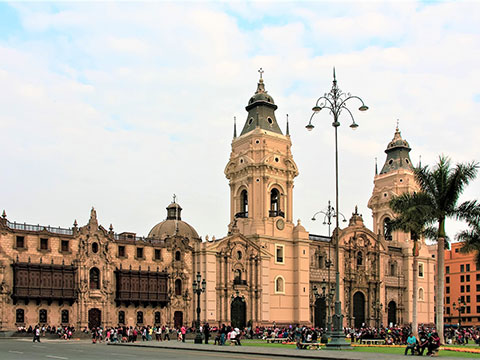 Why book with us?
Experts In Peru
We live in Cusco
Fair & sustainable
Authentic Peru
24/7 Support
Security & Flexibility
Insider Tips from Peru
20 years of experience
Good Value for Money
50+ and family tours
Customized Trips
Individual tours
Travel stress-free
Handpicked accommodations
We plan your trip together
Ligia Bueno Panacho
Very well attended
We return from our trip yesterday, and would like to thank you for all the service. We were very well attended in all the hotels, the guides were great and everything went as planned.I wanted to compliment the guides who spent a good part of the ride - City Tour and Sacred Valley and Machu Picchu ... they were great.
And also the staff of the hostel in Cusco, who were very friendly throughout our stay .Thanks again
Phil & Denise Shelton
Great quality of service & very helpful
Really excellent trip to Peru arranged with Dos Manos whilst in the UK. Lots of help sorting & finalising Itinery & once in Peru it went like clockwork. Great guides, no skimping on arrangements ( as we found with others on tours ) great quality of service & very helpful in sorting alternatives in country due to closure of Machu Picchu. We would recommend DM to any travellers going to Peru knowing that you'll be well looked after.
Boodle20
Guides were excellent and very knowledgeable
Dos Manos Peru organized a wonderful holiday in Peru for us. The guides were excellent and very knowledgeable . The trip included internal flights, pick-ups from the airport and from our hotels for the day tours so we had nothing to worry about from the moment we arrived in Lima. We included Cusco, the Sacred Valley of the Incas, Macchu Pichu and the fantastic Andean explorer- the best way to travel down to Lake Titicaca . We then went on to Bolivia to La Paz and Uyuni for the awesome salt flats.
Read more reviews