History
The Tambopata National Reserve is a nature reserve in the Amazon of Peru. Established by the Peruvian government in 1989, Tambopata is the second-largest reserve in Peru (after Manú National Park) at almost 275 hectares (680 acres). It is home to the Ese Eja people as well as over 600 bird species, including parrots, macaws, parakeets, toucans, hummingbirds and eagles; 100 reptile and amphibian species, such as caimans, boa constrictors and anacondas; 170 mammal species including giant otters, pumas, jaguars, tapirs, ocelots and monkeys; 1,200 butterfly species and 20,000 plant species.
Tambopata includes several types of habitats: old-growth Amazonian rainforest with trees over 30 meters (90 ft.) tall; bamboo groves; rainforests in floodplains; oxbow lakes; palm swamps where blue and gold-bellied macaws nest; and Savannahs in the eastern sector of the park.
Location
Tambopata National Reserve is located in the southern part of the Amazon, south of the Madre de Dios River in the Tambopata district. The park is situated on the Bolivian border, about 260 km (160 miles) east of Cusco. The reserve encompasses the entire watershed of the Tambopata River.
Visiting Tambopata Reserve
Tambopata National Reserve boasts with an extremely high density in natural diversity. Most tours into this extraordinary piece of Peru, include the stay in traditional bungalows. From here you have the possibility to take a variety of trips into the rainforest, marvelling at wildlife and natural environment. One of the main attractions in the reserve is the Colpa de Guacamayos (Macaw Clay Lick), one of the largest natural clay licks in South America, where you can observe hundreds of red, blue and green parrots and macaws gather every day.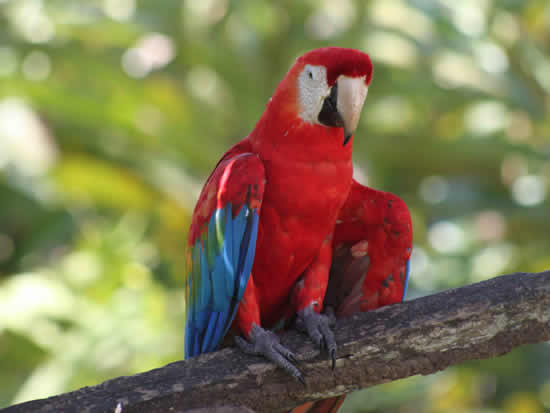 Getting There
From Cusco, the park can be reached in a 10-12-hour bus ride to Puerto Maldonado. However, landslides are common during the rainy season and can significantly lengthen the trip. From Puerto Maldonado to the reserve it takes about two hours by boat or by car. It is also possible to take an airplane from Cusco that will take about 25 minutes. The park itself is accessible from the city of Puerto Maldonado, where you will be taken by boat or a car in order to enter the reserve.