About Cusco
The ancient city of Cusco is situated in the Andes Mountains of Peru at 3,400 meters (11,000 feet) above sea level. Cusco is surrounded by beautiful hills and extends into a river basin known as the Sacred Valley of the Inca. The city has around 365,000 inhabitants, a majority of who are Mestizo and indigenous. Cusco city is located in the southeastern part of Peru; and is also the capital of the district of Cusco.
The word Cusco derives from Quechua "Qosqo", meaning 'navel' in the ancient Incan language and hinting to the former significance of the city as the center point of the Inca Empire. Cusco is one of the oldest cities on the South American continent, where people have continuously lived.
Cusco, nestled high in the mountains, is the perfect starting point for tours and offers endless possibilities to explore the surroundings. Many travelers pay a visit to Cusco not only to marvel at its ancient Inca foundations and charming alleys – but also to start out on trips into the majestic Andes, to see famous Inca ruins, and of course to discover the World Heritage site of Machu Picchu. Cusco is the gateway to the Sacred Valley, the Inca Trail, and the Madre de Dios rainforest reserves. Despite urban growth, the city of Cusco has maintained the architectural integrity of multiple pre-colonial structures.
Things to See in Cusco
When exploring the ancient city of Cusco, to start at the main square, the Plaza de Armas. The plaza is bordered by a beautiful cathedral and two churches (Iglesia del Triunfo and Iglesia de Jesús María). From the Plaza de Armas, continue to San Blas, which is situated up the hill from the center, providing panoramic vista points of the city. In San Blas you will find charming alleys with little shops and cozy restaurants to have breakfast, drink coffee, or eat pizza baked in wood fired ovens. If you are feeling in a good shape today, keep climbing up the stairs to the giant white Christ statue called Christo Blanco overlooking Cusco.
Besides the Plaza de Armas, there are many other beautiful Plazas (or squares) and many beautiful streets where you can see Inca stone work.
Another must-see attraction within the city is the Qorikancha: today, a church, and which functioned as the important Sun Temple in Cusco in the past.
Just outside the city, there is large walled Incan complex called Sacsayhuamán. If you want to escape the city, there are many Day tours in Cusco offered to little villages in the Sacred Valley such as Ollantaytambo, Pisac and Chinchero.
One of the highlights of a visit to Cusco is, without a doubt, the Inca citadel Machu Picchu. There are many different Machu Picchu Tours and Machu Picchu treks.
Outdoor activities like rafting, mountain biking, horseback riding, paragliding, and ziplining are great trips for adventurers, as well as relaxing hot springs in Lares, Santa Teresa, and Aguas Calientes.
Read more about all the Cusco tours you can do below here in the section Things to Do in Cusco.
Read more about: Tourist Attractions in Cusco
Things to do in Cusco
Cusco offers a plethora of exciting educational, sightseeing, adventure, gastronomical and shopping activities. While visiting Cusco, you can revel in the city's famous Inca engineering, stonework, picturesque narrow streets, ornate cathedrals and colorful, lively and lavish artwork.
Do not miss out on a stroll through the main Plaza de Armas to see the Cusco cathedral and churches as well as the amazing architecture. Or take the short climb up to the San Blas neighbourhood, known for its steep cobblestone streets, incredible works of art, its famous artisans and an observatory to see the city of Cusco below. The Plaza de Armas and San Blas neighborhood have some amazing restaurants with typical Peruvian food.
Cusco is a great place for dining and different places offer workshops on Peruvian Cuisine. You might love to visit the Cusco markets too (read more below).
Also read What to Do in Peru
The Cusco city tour is also a good (half) day trip where you will have the opportunity to visit six of Cusco's most famous sites including the Cathedral Basilica of Our Lady of the Assumption, Qorikancha, Q'enqo, Pucapucara, Tambomachay and Sacsayhuaman. You should also go to the Sacred Valley to visit Pisac, Ollantaytambo and Chinchero, the salt mines of Maras and the archeological site of Moray.
There are also many outdoor activities for adventurers like a hike to Rainbow Mountain, to Lake Humantay, or to go rafting, mountain biking, horseback riding, paragliding, quad biking and ziplining . And last but not least, Cusco is the gateway destination for tours and hikes to the famous World Heritage site of Machu Picchu.
Read more about Machu Picchu Tours
Read more about Machu Picchu hikes
Museums of Cusco
Cusco offers a variety of different museums that are worth a visit. Start at the beautiful Museo de Arte Precolombino, which exhibits pre-Columbian art, like Incan pottery found at archaeological sites. You can find more Andean art at the Museo Municipal de Arte Contemporáneo and the Museo de Arte Religioso, which displays religious art from the Spanish conquistador era.
Another interesting museum to visit is the Pisco Museum. In this museum the distillation process is demonstrated. Choose from more than 100 different Piscos in the tasting after the tour around the museum.
The Chocolate Museum will definitely trigger your taste buds. Here, the history of the chocolate is explained and it is even possible to do a workshop to learn how to make your own toffees!
If you have more time on your hands, make a stop at the intriguing museum for the holy, magical and medicinal plants (Museo de Plantas Sagradas, Mágicas y Medicinales). This museum showcases the history of the use of medicinal plants in the Andes and explains how the plants are used for a spiritual and hallucinating experience, such as the Ayahuasca ceremony in the Rainforest.
There are also plenty of museums to learn about the Inca culture, like the charming Museo Inka located in the Admiral's Palace, one block from the Plaza de Armas.
Shopping in Cusco
The most famous market in Cusco to buy artisanal crafts as well as fresh fruit, produce and juice, is San Pedro market situated a few blocks from the main square (Plaza de Armas) on Cascaparo street. Mercado San Pedro is a popular spot for tourists to negotiate over souvenirs, explore the local foods and buy one of the famous Andean Alpaca sweaters or other hand-woven textiles.
If you are looking for textiles of a higher quality, take a walk around the Plaza de Armas and head up Calle Triunfo for several boutiques that offer pricier options.
Don´t miss out to take a look around the San Blas neighborhood above the Plaza de Armas. The charming district of Cusco is famous for its small crafty shops, organic and hip restaurants as well as the quiet Plaza San Blas. Head up the stairs next to the big fountain at the plaza and you will find narrow, cobble-stoned alleys with Andean handcraft shops, souvenirs, clothes, paintings and little cafes. Oftentimes prices are not fixed and bargaining is a normal habit for locals as well as for tourists.
Read about Souvenir Shopping in Cusco
Cusco markets
One of the most famous markets in Cusco is the San Pedro market which is full of the sights, colors and flavors of the Andes Mountains and Peru. You can find everything within the San Pedro market from typical Peruvian fruits like lucuma, cherimoya, aguaymanto, pepino dulce, camu camu, tumbo, mango, aguaje, cocona and tuna to herbs, spices, meats, typical Peruvian dishes, hundreds of tubers, medicinal plants, flowers, souvenirs, and textiles.
Tips for visiting Cusco's best markets
There are also a few other markets including the Mercado Wanchaq, Mercado Rosaspata, and Mercado San Blas which are less touristic. Those Cusco markets are larger and more exciting on the weekends as people from the countryside come to sell their products as well. An outdoor fair you can visit every Saturday is located in Plaza Tupac Amaru where they sell coffee, chocolate, fruits, vegetables, plants, clothing, pets, drinks, sweets, baked goods and other local delicacies depending on the time of year. The fair in Plaza Tupac Amaru tends to have different vendors from across the Cusco region every Saturday depending on if there is a special theme or holiday.
Nightlife in Cusco
Cusco offers a broad range of nightlife activities. Since Cusco attracts a wide range of tourists from many parts of the world, you will find Irish and English bars such as Paddy´s and the Cross Keys as well as local bars in Cusco. Try the Fallen Angel, located on Plaza Palacio Nazarenas, and The Frogs Bar, located a short distance from the main Plaza de Armas. Lining the main plaza, you will find various clubs playing electronic and charts music. One of the most popular clubs is called Mama Africa, where Salsa lessons are also offered for tourists and locals.
There are a plethora of small bars situated in the small, pedestrian streets leading away from Plaza de Armas that frequently play live music. Kilometre Zero is a very nice option for live music in the San Blas neighbourhood, just four blocks from the Plaza de Armas. If you are into live music, try also the Ukuku´s, situated one block from the Plaza de Armas on the street Plateros. Here, you will find various types of live music played like reggae, rock, salsa and reggaeton. Most bars are open every day of the week, and feature a happy-hour menu with special offers for drinks.
Cusco Restaurants
In order to discover all of the delicious restaurants Cusco has to offer, you will need a lot of time. It´s almost impossible to make a bad choice in Cusco, because there is such an excellent range of food options. There is everything from fish restaurants (Cevicheria), to Falafel and wood oven pizzerias, from vegetarian food, to traditional Peruvian dishes like cuy and lomo saltado. Most of the meals in Cusco are prepared with fresh ingredients, and many restaurants offer a fixed lunch menu (almuerzo) for a cheap price ranging from 6 to 20 soles. Menus like this usually include a soup as an appetizer, a main course like rice with vegetables and meat, a beverage, and a small dessert (postre), like fruit salad or pudding.
Read more about Peruvian Food and What to Eat in Peru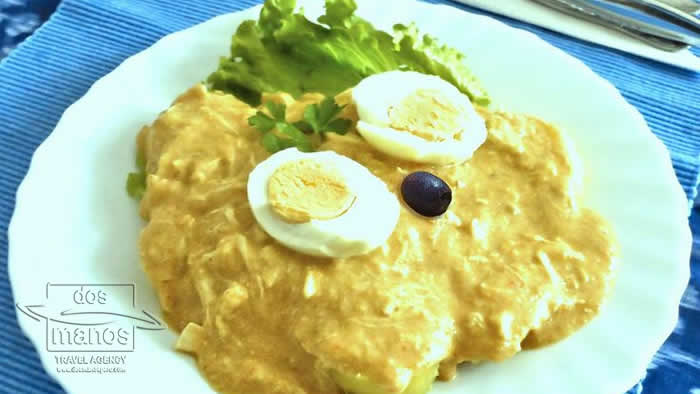 Travel Information for Cusco
Cusco can be reached from many Peruvian cities. Taking a bus from Lima is an affordable but time-consuming option (approx. 22h). An airplane flight between Cusco and the capital city is the faster (approx. 1.30h) but costlier alternative. The Bolivian border and the Lake Titicaca lies roughly nine hours away to the south of Cusco and is most commonly reached by overnight bus. Other destinations like Arequipa (10h) and Nazca (7h) can also easily be reached by bus from the Inca center.
Within the city of Cusco, taxis and local buses (collectivos) are the most common means of transportation. Luckily, a lot of Cusco´s great attractions are located in the historic city center and thus, making it easy to explore the city by foot.
Cusco is a dynamic city, that mixes traditional culture and modernity, offering visitors a unique and wonderful travel experience.
Cusco Weather
In general, in the Cusco region of the Andes, the sun is very strong during the day, the air is dry and cool and the nights can get down to freezing. You will need sunscreen and a hat during the day. The Cusco temperature never gets very high and even on a cloudy day, the sun has a burning sensation.
There are two distinct seasons in Cusco. The winter or dry season runs from April to November. The weather can get quite warm during the days but can be very cold at night.
During the summer or rainy season between November to March, Cusco receives a lot of rain, with the most falling in December, January, and February. This rain is heavy but rarely prolonged and is interspersed by lengthy sunny periods. When the sun is out, it can be warm, but when the rain comes, temperatures tend to lower.
Read more about Peru climate
Cusco altitude
The elevation of Cusco is 3,400 meters or 11,155 feet above sea level. If you feel you have less energy or a headache and to avoid soroche or altitude sickness, you should drink plenty of fluids, avoid alcohol, and rest. Walking may also be a challenge for some, so please make sure to take your time and rest when you need to. You can bring or purchase tablets to reduce the effects of altitude sickness. You are also welcome to drink the natural coca tea or muña tea to help with adjusting to the Cusco altitude.
Read: Quick steps to combat altitude sickness in Peru
Read: Health Information for travelling in Peru
Cusco airport
Cusco airport or Alejandro Velasco Astete International Airport is an international airport located in the city of Cusco. Cusco, a principal tourist attraction in Latin America, receives various domestic flights as well as some international flights. The airport itself is quite small. The runway is completely paved. The airport is located 5.5 km (3.4 miles) from the Plaza de Armas in the historic center of Cusco. The approximate journey time is 20 minutes by taxi.
You are welcome to catch a taxi outside of the airport upon your arrival, or you may want to pre-arrange an airport pick-up. Beyond baggage claim, just outside the door to the building to your left, there will be many taxi drivers (you can´t miss them). No taxis are metered in Cusco so you will need to agree on a price first before getting in.
Read more Travel Tips Peru