About Sucre
Sucre is located towards the south of Bolivia, though it is still somewhat central in the highlands. The city is at a height of 2,810 meters, or 9,214 feet. Because of its height, the city experiences generally mild temperatures throughout the year. Although La Paz is the current capital of Bolivia, Sucre was originally named as Bolivia´s capital in the country´s constitution, and it was the city where Bolivia´s independence was claimed.
Attractions in Sucre
The main square, the Plaza 25 de Mayo, is the perfect place to hang out and do some people watching! The Cathedral and the House of Freedom are located in the Plaza, along with a statue of Bolivia´s first president. Plaza 25 de Mayo has everything that you might want, whether you are looking to try street food, eat at a restaurant, do some shopping, hang out for a while, or enjoy a street performance.
Sucre is home to the second biggest football and Olympic stadium in Bolivia! If you are a sports fan, you won't want to miss out on seeing a game at this stadium. Bolivia's Division 1 Team, Club Universitario, has its games here.
The House of Freedom is a building located in Sucre´s main square. It was here that leaders signed their Declaration of Independence in 1825. The building displays some impressive architecture, as it was originally constructed in the 17th century to be a Jesuit University and exhibits much of Bolivia's rich history.
The Metropolitan Cathedral is a beautiful structure with its front doors facing the main Plaza 25 de Mayo. Construction of this cathedral was originally started in 1552 and continued until 1712. Because of this long period of construction, the building features styles from different architectural eras. It started out with a renaissance design, but by the end of construction, also exhibits baroque and mestizo designs.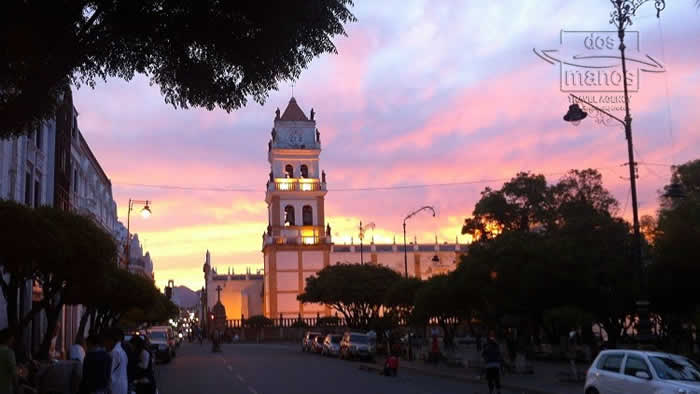 Parque Cretácico is an interesting park that features dinosaur footprints. In fact, it has the largest amount of dinosaur prints of any location in the world. This park is located 5 kilometers from the city center and can be accessed by a bus that leaves from the main square for $7 round trip. Entrance to the park costs $4.35 and there are options to take a tour of the park between 10 am and 3 pm.
Convento de Santa Teresa is a convent that was originally constructed in 1760. However, it was destroyed in an earthquake around 30 years later and is still in the process of being reconstructed. It is possible to take a guided tour of the convent Monday-Friday, between 9 and 11 am and 2:30 and 4:30 pm. On Saturday, the convent is only available for tours between 2:30 and 4:30 pm.
Read more about Tourist Attraction in Sucre
Museums in Sucre
The Museum of Indigenous Art is a popular museum that offers a look into the culture of the indigenous peoples of the Sucre area. These people groups are Jal´qa and Candelaria, which specialized in ceramics and weaving. This museum is open Monday-Saturday from 9am-12:30pm and from 2:30-6pm.
Recoleta Museum was established in 1601 and has served many functions, such as a convent, a prison, a barracks, and now a museum. The inside of the structure is quite impressive with its many carvings, sculptures, and paintings, and the outside of the museum features colorful gardens. It is open Monday-Friday from 9-11:30 am and 2:30-4:30 pm and Saturday from 3-5 pm.
Museo Catadreliceo is located just next door to the Metropolitan Cathedral and houses some of Bolivia´s most important religious relics. The most famous relic in the museum is a painting of the Virgen of Guadalupe, who is Sucre´s patron. This museum is open Monday-Friday from 10am-12pm and from 3-5pm.
Shopping in Sucre
There are numerous opportunities for shopping in Sucre, though we would specifically recommend El Centro Turístico Comunitario and the Mercado Central. El Centro Turístico Comunitario sells artisanal products from Bolivia that make for great souvenirs. The Mercado Central is best for buying food at a cheap price, and also to drink a fresh juice made from Bolivia's fresh fruits and vegetables.
Nightlife in Sucre
The Goblin Bar and Microbrewery is a great place for people who love beer! This bar is a recent addition to Sucre´s night life. It offers several ales and a variety of cocktails, along with some trays of food for customers to snack on. It has a cozy, family-like atmosphere and often provides live music. The Goblin Bar and Microbrewery is open only on Fridays and Saturdays, starting at 8:00 pm.
The Red Lion English Pub is the perfect place to meet friends to watch your favorite sports. This pub provides food and drink, including international favorites and Bolivian specialties. It has a warm ambiance, with a bar area and a courtyard as well. Happy hour is from 6-11 pm Monday through Wednesday and from 8-11 pm Thursday through Saturday.
If you are looking to dance your way through the night in Sucre, Mitos is the place for you. It plays both Latin and American music, and it has a big dance floor that accommodates many people. It is open Thursday through Saturday, and they charge an entrance fee on Friday and Saturday. The party really starts to get going around midnight and rages until the early morning hours.
Mooy is another nightclub, though it is bigger and filled with more Bolivians than tourists. The club opens at 10:00 pm and plays a variety of music, but mostly electronic and pop. The best feature of Mooy is its rooftop terrace that provides beautiful views of Sucre.
Restaurants in Sucre
El Huerto is a restaurant that offers traditional Bolivian food and also international dishes. It has an inviting ambiance and serves lunch every day and dinner Wednesday-Saturday. There are tables outside with umbrellas, with an array of surrounding trees that truly makes it feel like a garden. Prices are more expensive here.
La Taverne is a French restaurant that is quite well-known in Sucre. It is a very elegant spot, and therefore more expensive, with a meal costing over 100 bolivianos. Though specializing in French dishes, the restaurant also serves typical Bolivian plates and has other international options.
Florín is a restaurant that is open for every meal of the day. It serves both local and international food and is a popular spot among both Bolivians and visitors. The wifi at Florín is known as one of the best in the area, which is a great perk, and most are cheap. It is necessary to arrive early to this restaurant because it gets busy very quickly!
Café Gourmet Mirador is known for its amazing view. It is open from 9:30 am – 7:30 pm. They mainly offer Italian food, but also offer sandwiches and other options to snack on. Most people prefer to visit this café for a cocktail and some relaxation time while enjoying the view.
Condor Café is a great vegetarian restaurant with all of its proceeds going to charity projects in the area. Condor Café is an economical, healthy option. Located just a block away from the main square, this café serves a variety of dishes, such as soups and empanadas.
Chocolates Para Ti is a popular tourist attraction in Sucre due to its chocolate shop and chocolate factory. There are numerous stores that sell the Chocolates Para Ti products, though the primary location is on Adrenales Street, which is just off the main square. Every chocolate lovers´ dream will be fulfilled with this high-quality chocolate.
Travel Information for Sucre
In order to get around the city of Sucre, taxis, buses, and micros (pictured below) are your options. These are great alternatives to walking on foot up the big hill leading up to La Recoleta. Buses and micros are typically very crowded, so taxis are a great option for transportation if you are looking for a more relaxing, less stressful way to travel.