About Potosí
Potosí is a city towards the south of Bolivia, located in the highlands. It has an elevation of 4,090 meters, or 13,420 feet. This means that the weather varies between a subtropical and alpine climate. During the summer months of May-September, the climate is cool and wet. Throughout the remaining months of October-April, the climate is slightly warmer (8-10 degrees Celsius) and dry.
The city is known for its mining history, as it is located just beneath a hill called "Rich Hill", which has the largest silver deposit in the world. In fact, this area supplied much silver to the Spanish when they invaded South America. The city was founded as a mining town in 1545 and is known for all of the wealth it produced, especially in the 16th century.
Attractions in Potosí
The most popular tourist activity is a visit to the mines. Tour companies generally include the equipment you need for the tour (i.e. helmet, flashlight) in this price. Be aware that tours through the mines can be shocking for visitors; working conditions are rough and often unexpectedly hazardous, and the tour involves being in dark, small places in some parts.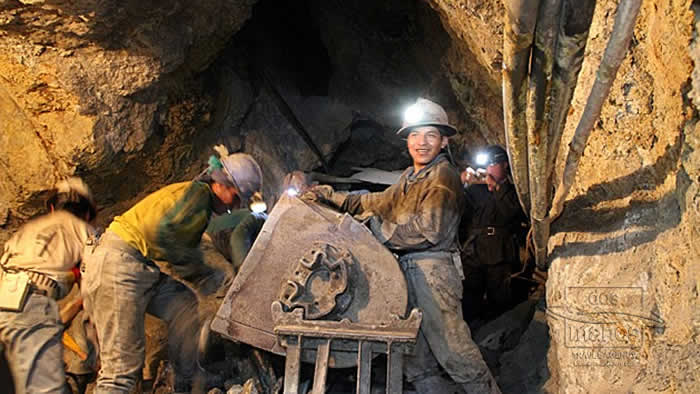 Potosi´s main Cathedral is located in the Plaza 10 de Noviembre. It was originally constructed at the end of the 16th century, though it collapsed in the early 1800s. The Cathedral was reconstructed, though with a different, neoclassical style, to the beautiful structure that it is today. The interior of the Cathedral is spectacular, and it is possible to go up to its bell-tower to enjoy a nice view of Potosí.

Los Ingenios are "factories" that used to be used to separate the silver from the ore that was brought from the Rich Hill. Most of the ingenios are located along the river Huana Mayu, totalling 82! Some of them are still in use, and many tours of the Rich Hill mines stop by an operating ingenio to see the process.

Read more about Tourist Attraction in Potosi
Museums in Potosi
The National Mint is one of the most famous tourist attractions in all of Potosí and even in all of South America. Potosí´s first mint was built in 1572 at a different location, where the House of Justice now resides. The current, well-known National Mint of Potosí was constructed between 1753 and 1773 and fills up an entire block!
The building has not only been used as a mint; in fact, it was used as a prison, a fortress, and the base of the Bolivian army. Not only is the building itself beautiful, but the artifacts inside the mint are also precious. It is recommended to take a tour of this Museum, which are offered at 9am, 10:30am, 2:30pm, and 4:30pm from Tuesday through Saturday. There are also tours offered at 9am and 10:30am on Sundays.
The Santa Teresa Museum is part of the Santa Teresa Convent, which originated in 1685. Carmelite nuns still occupy this convent. There is a guided tour of this museum/convent, offered at various times throughout the week, Sunday-Saturday. Cost of admission is 21 bolivianos. The tour gives more insight into the history of the convent and its beautiful sculptures and paintings.
The San Francisco Museum is also part of a convent, the San Francisco Convent. It is the oldest monastery in all of Bolivia! It is known for its art, with works such as the 25 scenes from the life of St Francis of Assisi. Tours of this museum operate in the morning and afternoons Monday-Friday, and in the morning on Saturdays. Cost of admission is 15 bolivianos. Visitors may go up to the roof to experience a wonderful view of the city, and it is also an option to tour the catacombs.
Shopping in Potosi
There is a market on Calle Oruro in Potosi, and just in front of the entrance there are numerous stands that feature traditional items that make for good souvenirs. The clothing items are normally made of llama and alpaca wool, and there are also other items available, such as jewellery or household decorations.
Furthermore, the Mercado Artesanal is ideal for buying items made out of tin, an appropriate souvenir coming from Potosí. This market is located on Omiste and Sucre streets.
Artesanías Palomita´s is part shop, part museum. It features traditional costumes and weavings that come from the area of Potosí. It is located on Avenida Serrudo and is open from Monday-Saturday from 9am-12pm and 2:30-6pm.
Nightlife in Potosi
Potosí is not particularly known for its happening nightlife. However, one place that we can recommend is La Casona Pub, which is located on Calles Frías and is open Monday-Saturday from 6pm-midnight. This pub has a friendly atmosphere and often has live music on Fridays.
Potosi also has a movie theatre called Multicine Universal, located on Calle Padilla. The theatre often has new releases. This is a great option for a more relaxing activity after a few exhausting days of traveling.
Restaurants in Potosi
4060 is a restaurant that provides both Bolivian food and international dishes. It is located on Calle Hoyos and is open from 4-11pm. Prices are a bit more expensive, but the plates are big enough to share. The atmosphere is friendly and inviting.
La Salteña is a cute spot that specializes in salteñas, which are baked empanadas that are a typical food of Bolivia. Located on Calle Padilla, prices are cheap! It is said that Potosí has the best salteñas in all of Bolivia, so it would be a shame to miss out on this great little spot!.
El Fogón is open every day from 12-11pm and has economical prices. It specializes in international food, but is also known for its alpaca steaks.
The most popular café in Potosí is Café la Plata. It is located in the Plaza 10 de Noviembre and is the perfect hang out spot. The café is open on Mondays from 1:30-11pm and Tuesday-Saturday from 10am-11pm.
Travel Information for Potosí
Taxis, buses, and micros (minibuses) are all available for transportation throughout the city of Potosi. Taxis are more expensive (but still very cheap), yet are the more comfortable option. Buses and micros are more economical, but sometimes more hectic.