About Copacabana
Copacabana, Bolivia lies on the shore of Lake Titicaca, and is the main town that tourists flock to when visiting Lake Titicaca on the Bolivian side. The town has approximately 6,000 inhabitants and is located at 3,841 meters (12,602 feet).
It boasts quaint architecture and a relaxing atmosphere. It is particularly known for the various tours that leave for Isla del Sol, which is a popular tourist destination. Previously inhabited by the Aymaras, Copacabana means "view of the lake" in their language. Later conquered by the Incas and the Spanish, Copacabana is a town full of historical significance.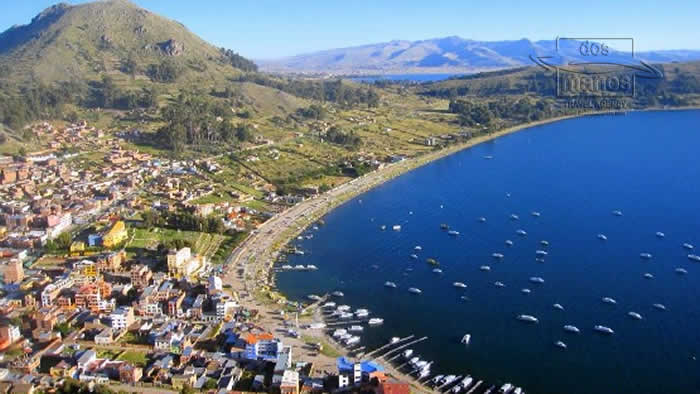 Attractions in Copacabana
The most popular tourist attraction in Copacabana is Isla del Sol. This is a large island on Lake Titicaca that is marked by the ancient Inca civilization. It was believed by the Incas that Viracocha, their god that created the universe, made the sun on this island, thus its name "Isla del Sol". The only way to arrive to the island is by boat, and numerous tours leave each morning at around 8:00 am from Copacabana.
Tourists can choose between a one day tour and an over-night excursion, in which they would stay over-night on the island. While on the island, it is popular to walk from end to end and enjoy the spectacular views of the landscape.
In Copacabana itself, one popular landmark to visit is the Catedral de la Virgen de Candelaria. This is just down the street from the main plaza and boasts a Moorish-style. It is a big white building and also contains the famous Virgen de la Candelaria statue. This cathedral is a must-see attraction if you are traveling to Copacabana.
Another fun activity to do in Copacabana is to hit the beach! Whether you want a relaxing afternoon to sun bathe on the sand or if you are an adventurer wanting to go kayaking, the beach in Copacabana will leave you refreshed and sun-kissed!
Read more about Tourist Attraction in Copacabana
Museums in Copacabana
The Andean History Museum is located on Calle Jauregui close to Plaza Sucre. It is open from 8:00 am to 6:00 pm and it contains many exhibits that represent the Andean history in Bolivia. The history of Lake Titicaca and its native people is also included in the exhibit.
Museo del Poncho is a unique museum located on Tito Yupanqui street #42. This is a very cultural and colorful museum as it exhibits the ponchos that are typical of the Andes. Here at the museum, specialists also study and work to preserve the ponchos that they acquire.
Shopping in Copacabana
There is a market called Mercado 2 de Febrero that is a tourist highlight. It is located at the cross streets of Pando and Jauregui. There are three sections to the market: one section serves breakfast items, another serves daily meals, and the other is a typical market with vegetables, fruits, meats, and other goods.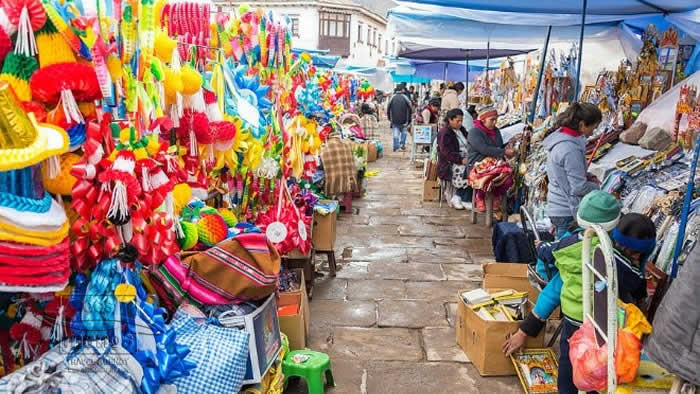 The Spitting Llama Bookstore and Outfitter is a popular store for tourists in Bolivia. They have three locations throughout Bolivia: Cochabamba, La Paz, and Copacabana. The Spitting Llama has lots of gear that comes in handy for tourists who need to purchase items while traveling. Furthermore, they have a multi-lingual bookstore that contains thousands of books in various languages: perfect for travelers who are looking for new reading material!
Nightlife in Copacabana
There are numerous bars and restaurants on Avenida 6 de Agosto; many times these restaurants have live music and are stocked with tourists. Some popular places along this street are Pueblo Viejo and Akwaaba. For late-night dancing, there is a club open at night called Wikeys. Located on the corner of Jauregui and Busch, this is a popular spot to have a good time.
Another good idea for activities to do at night is to watch the sunset. There is a hill right in town that provides the perfect view of the sunset over the lake. It takes about 30 minutes to climb to the top, and though the altitude may make the journey a bit challenging, the view is well worth it!
Restaurants in Copacabana
La Posta Restaurant and Bar is a popular restaurant for those looking for a high-class place to eat. It is located on Avenida 6 de Agosto and serves a variety of food, from pizza to vegetarian plates.
Mankhu Uta is also located on Avenida 6 de Agosto and has middle of the road pricing. The good thing about this restaurant is that it is open for breakfast starting at 10:00 am and serves a variety of food for both lunch and dinner. The atmosphere here is casual and quaint.

La Orilla is a seafood restaurant located on Avenida 6 de Agosto. It is quite an expensive restaurant, though some say that it is the best of Copacabana. Because of its location right by the lake, you can be sure that the seafood here is very fresh!
The Condor & the Eagle Café is a less expensive restaurant/café located on Avenida 6 de Agosto. It opens at 7:00 am and closes at 1:30 pm. This is a good spot to hang out for a casual meal or coffee and take advantage of the wifi that they provide.
Travel Information for Copacabana
Copacabana lies right behind the Bolivian border from Peru. Leaving from Cusco, a bus trip is the most common way of transport and takes about 10h. Busses from Cusco leave in the evening and reach the Peruvian city of Puno early in the morning on the next day, where you will have to step out of the bus and wait for roughly an hour at the bus terminal. From there it takes another 2 -3 hours to reach Copacabana, with a stop at the border to Bolivia, where you will have officially exit Peru and immigrate to Bolivia.
Copacabana is a fairly small town, so there is no need to worry about transportation once you are there. If you do have a need to travel more than a short walk, there are taxis available to do so. Other than the occasional taxi ride, you will be able to comfortably walk around the town wherever you need to go.