History
At a depth of 4,160 meters (13,650 ft.), the Colca Canyon is the world's deepest canyon – more than twice as deep as the Grand Canyon in the United States, it is Peru's third most-visited tourist destination with 120,000 visitors each year.
The Colca Valley gets its name from the mud and stone granaries built into the cliffs or caves, called "colcas," where pre-Inca cultures would store crops and seeds. The area was first inhabited by the Quechua-speaking Cabanas, descendants of the Wari, and the Aymara-speaking Collaguas cultures, from the Lake Titicaca region. They constructed large expanses of agricultural terraces and an irrigation system to water their crops.
The Inca incorporated the valley into their empire in the late 14th century through intermarriage and improved the existing agricultural system they had found there. When the Spanish arrived in the 16th century, they forced the inhabitants to leave their scattered settlements and move to centralized pueblos, which remain as the principal towns of the valley until today.
Location
Colca Canyon is located in the south of Peru about 160 km (100 miles) northwest of the city of Arequipa.
Visit the Colca Canyon
The Colca Valley features colourful small villages where the indigenous people maintain their ancestral traditions through festivals, handicrafts and agriculture terraces. The biggest town in the valley is called Chivay, where you can enjoy the La Calera hot springs.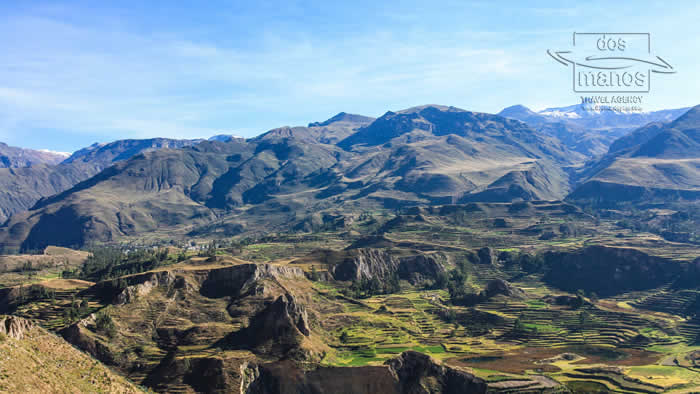 Furthermore, Colca Canyon is home to many rare endemic animal species, including giant hummingbirds, vicuñas, Mountain Caracara, vizcachas and of course the Andean Condor, which can usually be seen from the "Cruz del Condor."
Don't miss the opportunity to see 6,000-year-old cave drawings depicting the domestication of the alpaca at Mollepunku near the town of Callalli, or visit the recently restored Inca ruins at Uyo Uyo in the valley.
The only way to reach the canyon is from the city of Arequipa, about 3 ½ hours away. The 160 km (100 mile) road runs along the edge of the canyon, featuring spectacular views and various scenic points. The best and safest way to explore the majestic canyon is a guided tour with a reliable travel agency.