Page 5: 41 to 50 in a total of 114
Kathrin Huber (Germany):

"Thanks for the great trip!"
Justin Hayes (Australia):

"The guide was awesome. Very knowledgeable and patient. I would definitely recommend him and Dos Manos to anyone who is interested in Peru treks."
Ivana Krajniakova (Slovakia):

"Thank you very much. All was really great. I had an amazing trip!"
Heidi Loera (United States):

"I was very pleased with the quality, food and wonderful service. I would definitely suggest to others."
Greice Paola e Rafael Bandeira (Brazil): "Adventure sport tours were awesome"
We wish to extend our praise to the travel agency Dos Manos, whose staff has been very effective in providing all the booked services and very professional in their attendance. We very much enjoyed all the excursions in Lima and Cuzco. All guides showed a lot of knowledge, which made the tours even more interesting. All adventure sport tours were awesome, but we especially remember the ziplining in Cusco adventure as the most challenging and fun with excellent guides. We will highly recommend Dos Manos Travel Agency in Cusco to all our friends!
Martine Carpentier (United States):

"We had an excellent and wonderful trail. Thanks to the staff and especially thanks for the knowledge and kindness of the guide!"
Joshua Otten (United States):
"Our guides and cook made the trip for us."
Our guides and cook made the trip for us. The cook did magic with his ingredients for every meal, great diversity and very tasty. The assistant guide had our tents put up in no-time. They made the trip fun and they were very easy to get along with. Many, many thanks to them!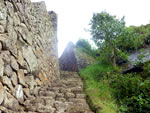 Maia Morresi (Australia):

"Congratulation to all the staff. Everybody made my experience in Peru unforgettable. I wish you success and we will see each other soon!"
Jessie Burgess (Canada):
"All of your staff was first class very impressive"
My daughters and their partners did the organizing of our trip with you, but any interaction that I have had personally with any and all of your staff was "first class" - very impressive, very professional. All the meals on the trek were great and the Dos Manos guide is a fantastic man. A wonderful teacher of the language and heritage of the Cusco region. I would certainly recommend you to anyone I know who is travelling to Peru. Thank you very much!
Stephanie de Boer (Netherlands):
"Very good organized! We've had a great time and I will recommend Dos Manos to other travelers. The guide has great knowledge of the Inca history and Machu Picchu, which made it extra interesting. Thanks a lot!"