Vackra ställen, kontakt med naturen och ljuvliga hästar om du väljer denna tur. Vi besöker några unika arkeologiska platser som besöks mera sällan, som Cusilluchayoq (även känt som "Sacsayhuamansito" eller "lilla Sacsayhuaman" eftersom arkitekturen är liknande). Vi besöker också Månens Tempel, en av de mystiska platserna i Cusco. Turen inkluderar också den berömda Sacsayhuaman och Quenqo.



09.00 Du blir hämtad vid ditt hotell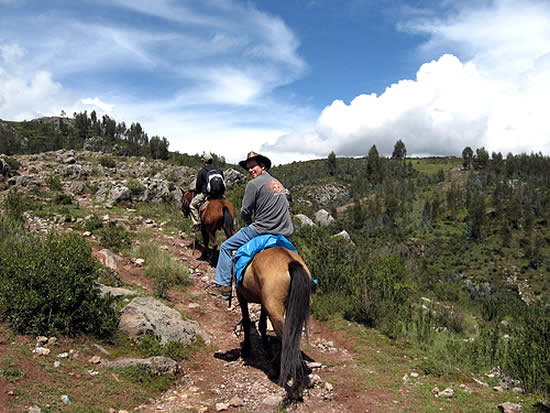 click on the image to enlarge


09:30 Med buss till Rancho i Pumamarca.
10:30 Vi besöker ridandes Quillahuan, Laguna de Inkatambo, Templo de la Luna (Månens tempel), Cusilluchayoc, Quenqo och Sacsayhuaman.
16:30 Tillbaka i Cusco

Avfärd: Dagligen
Transport: Buss och häst.
Längd: En dag
Pris 2019:
Ta Med

Keps eller hatt;
Solkräm;
Regnrock eller Poncho, beroende på vädret;
Vatten och snacks;
Bekväma kläder och bra skor.
Inkluderat
Not Included
Transport
Häst
Flerspråkig guide
Box Lunch
BOK DEN HÄR GÖRA EN RUNDRESA NU!