- tournées dans Arequipa
- tournées dans Cusco
- tournées dans Lima
- tournées dans Puno
- tournées dans Rainforest
- tournées dans South CoastManu(English)


info.dosmanos
Équitation (HR 02)

Avec cette excursion, vous verrez depuis votre fière monture des sites et des paysages enchanteurs. Nous visiterons des sites archéologiques qui ne font pas partie du circuit touristique habituel, tels que Cusilluchayoq (aussi appelé « Sacsayhuamansito » ou « petit Sacsayhuaman » en raison de son architecture). Nous visiterons également le temple de la lune, l'un des principaux lieux mystiques des environs de Cusco. L'excursion comprend la visite de Sacsayhuaman et de Quenqo.



09.00 am Ramassage,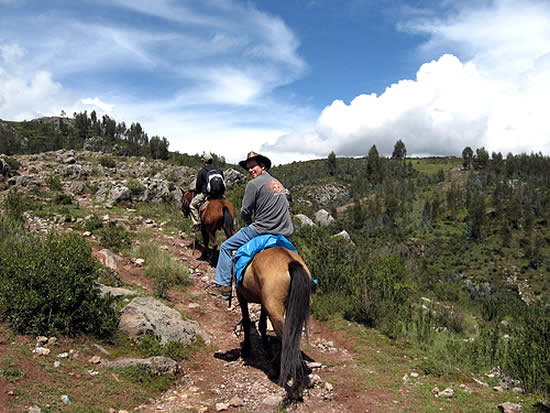 click on the image to enlarge


09:30 Transport en car jusqu'au ranch à Pumamarca..
10:30 Visite de Quillahuan, de la lagune de Inkatambo, du temple de la lune, de Cusilluchayoc, de Quenqo et de Sacsayhuaman .
16:30 Retour à Cusco

Leaving: Tous les jours
Transport: Car et cheval.
Length: Une journée
Price 2019:
Amener avec vous

Casquette ou chapeau
Écran solaire
Imperméable ou puncho, selon le temps qu'il fait Eau et collations
Vêtements confortables et bonnes chaussures.
Included
Not Included
Transport
Chevaux
Guide bilingue
Repas préparé
BOOK THIS TOUR NOW!
MORE TOURS IN CUSCO
Tours & Packages in Cusco