As in most countries worldwide, the COVID-19 pandemic in Peru has been a rapidly evolving situation, with new cases, deaths, policies, government ordinances, closings and cancellations happening almost every day. In this blog, a timeline of the Coronavirus situation in Peru, an overview of the most accurate information so far in Peru to help you stay informed.
The first case of COVID-19 was reported in Peru in a 25-year-old Peruvian living in Lima on March 6, 2020. A few days later, when 11 cases were confirmed, the Peruvian government suspended all public and private schools at the early childhood, primary and secondary education levels. The government also declared a national health emergency. All flights from and to Europe and Asia were prohibited, and a 15 days state of emergency was declared. That's how the corona pandemic in Peru started. What happened during the rest of 2020 regarding COVID-19 in Peru?
March 15, 2020: The government has declared a 15-day state of emergency and quarantine effective from March 16 and the closure of all borders by land, air and sea as well as a ban on travel between provinces. There is also a ban in place for planes, boats, trains, buses and private vehicles. Thousands of tourists are trapped in mostly Cusco and Lima and have been unable to leave the country in the 24 hours between the announcement of the quarantine and the cessation of all flights.


March 17, 2020: Today is the second full day of quarantine and citizens are being required to fill out an online form to obtain permission to leave home. The military is patrolling the streets, and people are not allowed to walk together.
March 18, 2020: The government has tightened the measures of the quarantine by implementing a curfew from 8 PM – 5 AM where citizens are not allowed to leave their homes.
March 19, 2020: The first COVID-19 related death has been announced.
March 26, 2020: President Vizcarra just made a national announcement that the quarantine be extended 13 days, lasting until April 12.
April 2, 2020: The president just announced that for the remaining 10 days of the quarantine he would add another restriction to flatten the curve. Only men are able to leave the house to buy groceries, medicines or go to the bank on Monday, Wednesday and Friday while only women are allowed outside on Tuesday, Thursday and Saturday. No one is allowed to leave on Sunday.
April 8, 2020: The quarantine has been extended another 2 weeks until April 26.
As of April 8, 2020 at 2:00 p.m., Peru time, there were 4,342 cases of COVID-19 and 107 deaths from COVID-19 in the country.
April 10, 2020: The Peruvian government has cancelled the days of differentiated departures for men and women during the state of emergency. Now, only one person is allowed to move per family from Monday to Saturday for the purchase of food, pharmaceuticals and/or for financial procedures. The use of a mask is mandatory to circulate on public roads. As of 11:45 a.m. Peru time on April 10, 2020 there were 5,256 cases of COVID-19 and 138 deaths from COVID-19.
April 14, 2020: The government is going to allow, in exceptional, humanitarian, and emergency cases, inter-provincial movement for people left stranded away from home or work.
April 19, 2020: One of the biggest events in all of Peru, Cusco's Inti Raymi celebration that takes places each June, has been cancelled this year, for the first time in 76 years as a response to the coronavirus pandemic.
April 23, 2020: President Vizcarra just announced the extension of the quarantine and the state of emergency for 2 more weeks until May 10.
As of April 23, 2020 at 6:00 p.m. Peru time there were 20,914 Coronavirus cases and 572 deaths from the Coronavirus in Peru.
May 3, 2020: The Government of Peru has published a legislative decree stipulating the gradual re-opening of the economy in four stages. The first stage of the recovery, starting in May, will allow for the re-opening of certain restaurants for on-site pick-up or for delivery. Also, limited hotel and transportation services will be allowed.
May 8, 2020: This afternoon President Vizcarra announced that the current State of Emergency, quarantine, and curfew will be extended two more weeks through Sunday, May 24.
As of May 8, 2020 there were 61,848 cases of COVID-19 in Peru and unfortunately, the number of deaths from COVID-19 in Peru has risen to 1,714.
May 18, 2020: After nine weeks of home quarantine, most children in Peru (age 13 and under) are now allowed to go outside with the following restrictions: 1) they must be attended by one caregiver, 2) the time is limited to 30 minutes a day, and 3) they must stay close to home.
May 22, 2020: Peru's state of emergency and quarantine measures will remain in effect through 11:59 PM on Tuesday, June 30. The curfew for most of the country will start at 9 PM and continue until 4 AM.
As of Friday, May 22 at 3:00 p.m. Peru time there were 108,769 cases of COVID-19 in Peru and 3,148 deaths from COVID-19 in Peru.


May 25, 2020: Health Minister Victor Zamora said that COVID-19 testing data is open and all parties who have looked at it agree that Peru has reached "a plateau" and the level of contagion is decreasing.
"We have substantially reduced the level of contagion in the population," said Zamora, "and that is what our data shows and that has been corroborated".
There are 8,097 patients hospitalized with COVID-19, of which 909 are in ICU with mechanical ventilation. So far 50,949 people have completed their period of home isolation or have been discharged from a health facility. The number of deaths has risen to 3,629.
May 26, 2020: It has been noted that the COVID-19 infection rate is significantly lower at a high altitude (in Cusco for example).
May 28, 2020: President Martín Vizcarra, the Ministers of State, and other high officials of the Executive will reduce their salaries 10-15% for the next three months, according to an Emergency Decree published this Thursday in the Legal Regulations of the newspaper El Peruano. The money will be used for financial assistance to the relatives of health personnel who died as a result of their activities in the containment of COVID-19 in the country.
May 30, 2020: President Vizcarra spoke to the nation this afternoon and noted that more than 1 million Peruvians have been tested for the coronavirus (more than double any other country in Latin America.)
June 4, 2020: The second phase of economic reactivation was officially approved including the incorporation of physical activities such as walking, running, jogging, Pilates, functional training, tai chi and yoga with the use of masks.
The Ministry of Health (Minsa) announced 4,284 new COVID-19 cases bringing the overall total across Peru to 183,198.
There are 9,063 patients hospitalized with COVID-19, of which 1,005 are in the ICU with mechanical ventilation. So far 76,228 people have completed their period of home isolation or have been discharged from a health facility. There were 137 new deaths reported bringing the total so far to 5,031.
June 17, 2020: The Government authorized the commencement of face-to-face classes in public basic education institutions at the primary and secondary levels, located in rural areas.
June 18, 2020: President Martin Vizcarra affirmed that the rate of infection of the new coronavirus is decreasing in the country, which allows the government to resume productive activities in a gradual and progressive way.
June 30, 2020: Tomorrow at 4 a.m. the quarantine comes to a close here in Cusco and most of the country.
The Ministry of Health reported 2,848 new cases of COVID-19 to bring the nationwide total to 285,213. They also reported 173 deaths for a total of 9,677 across Peru.
There are 11,049 patients hospitalized with COVID-19, of which 1,185 are in the ICU with mechanical ventilation. So far 174,535 people have completed their home isolation period or have been discharged from a health facility.
July 1, 2020: The government has begun the "third phase" of economic reactivation. Among the businesses that may reopen as of this week are air passenger transportation services (only for domestic flights), lodging, moving services, restaurants with a capacity of 40%, stores with a capacity of 50%, photography services, museums and cultural centers, tourism agencies, call centers with a capacity of 50%, etc.
This month, the BBC published an interesting article Coronavirus: what is happening in Peru
Resumption of transport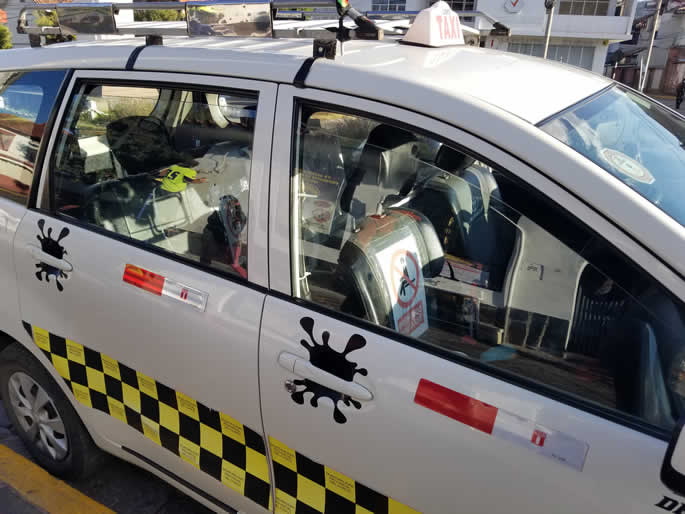 July 15, 2020: Today we saw the resumption of national flights and land transport.
July 31, 2020: The government has extended the quarantine until August 31 with a curfew between the hours of 10 PM and 4 AM the next day for most of the country.
August 28, 2020: Peru's government has extended the state of national emergency and the quarantine focused on some regions of the country until September 30. On Sundays, nationwide compulsory social immobilization will be in force all day long until 4:00 am on Monday.
Social gatherings, including those held at homes and family visits, are prohibited.
September 29, 2020: Peruvian President Martín Vizcarra has announced that the focused quarantine would be in effect only in the provinces of Abancay (Apurímac), Huamanga (Ayacucho) and Huánuco (Huánuco) beginning October 1.
He also announced that this measure would be completely lifted, on October 1, in the regions of Cusco, Moquegua, Puno and Tacna. In those regions the mandatory social immobilization will be maintained on Sundays and the curfew will be from 11:00 p.m. to 4:00 a.m.
Social gatherings and family reunions are prohibited.
October 1, 2020: Peru has begun phase 4 of economic reactivation, which includes a limited number of international flights, stores operating at 60% capacity, and restaurants at 50% capacity while bars and cinemas will remain closed.
October 5, 2020: Peru's Defense Minister Jorge Chavez confirmed the resumption of international flights to 11 destinations starting on October 5 to Chile, Mexico, Ecuador, Colombia and Brazil (only with Sao Paulo).
October 15, 2020: The Archaeological Parks of Sacsayhuamán, Pisaq, Ollantaytambo, Chinchero, Tipón, Moray and Pikillaqta are open for tourism. The Ministry of Culture opened these sites free of charge, provided that visitors comply with biosecurity protocols such as wearing masks, face shields and respecting the minimum distance during the tour.


October 17, 2020: RPP Noticias is reporting that on November 1 Machu Picchu and the Route 5 Inca Trail (Short Inca Trail) will reopen their doors for tourism.
675 visitors are expected to enter Machu Picchu each day. The entrance will be done in groups of 7 people plus the tour guide. The tour will be carried out for a period of one hour for each group.
The rail and bus transportation system will operate at half capacity to avoid infections of COVID-19 during the journey.
The request for an ambulance for Machu Picchu was also approved during the meeting. This way, medical attention will be guaranteed to visitors.
October 21, 2020: President Vizcarra and the Council of Ministers have announced that Sunday lockdowns are over across the country, but the nightly curfews will remain.
October 23, 2020: The Ministry of Transport and Communications (MTC) will enable, as of November 1, the resumption of flights to 25 destinations in 10 new countries in South America, Central America, the Caribbean and North America, with duration in the range of eight hours.
The 25 routes will connect Lima with Los Angeles, New York, Orlando, Miami, Houston and Atlanta (United States); Mexico City and Cancun (Mexico); Havana (Cuba), Montego Bay (Jamaica), Punta Cana (Dominican Republic), Cartagena (Colombia) and San Jose (Costa Rica).
Destinations also include Toronto (Canada); Rio, Sao Paulo, Brasilia, Foz de Iguaçu and Porto Alegre (Brazil); Buenos Aires, Rosario, Mendoza, Cordoba and Tucuman (Argentina); and San Salvador (El Salvador).
These routes are added to the 11 currently operating since October 5, which link Lima with Guayaquil, La Paz, Quito, Bogota, Santa Cruz, Cali, Medellin, Panama, Asuncion, Montevideo and Santiago.
Inbound international passengers to Peru on commercial flights must have either a negative real-time COVID-19 molecular (RT-PCR), negative antigen test result, or a medical certificate of epidemiological discharge that is no more than 72 hours old after being issued, before boarding the plane. Children under the age of 12 can present a certificate of health issued by a medical doctor in lieu of a negative test. Foreigners are not required to quarantine upon arrival.
October 26, 2020: After eight months of suspension, the train operator PeruRail publicized the resumption of its services to the world wonder Machu Picchu, located in Cusco, Peru.
The company is offering 14 schedules on the Expedition and Vistadome trains with promotional fares for national tourists, with prices starting at $25 round trip. Likewise, Cusco residents who wish to travel on the tourist trains will have promotional fares from S/45 soles or 12.50 dollars round trip.
The company added that local and national passengers must use their mask and face shield from the boarding points and onboard the train. Likewise, no standing passengers may be transported, and each passenger must respect the seat assigned on their ticket in order to guarantee the obligatory physical distance inside the train cars.
October 30, 2020: COVID-19 statistics continue to improve based on the reported data from Peru's Ministry of Health. On Monday, the positivity rate dropped to 7.3%, the lowest it has been since April 24, 2020. Hospitalizations and daily average deaths continue to go down.
The re-opening of Machu Picchu
November 1, 2020: Today Machu Picchu reopened its doors for national and foreign tourists with free entrance until December 31, 2020. Machu Picchu was also awarded the Safe Travel seal, granted by the World Travel and Tourism Council, which certifies the site as a safe destination. Machu Picchu first opened its doors to Peruvians and citizens of Chile, Venezuela, Colombia, France, among others.
November 30, 2020: The capacity for visits to Machu Picchu increased from 675 to 1116 daily visitors. Those who want to visit Machu Picchu must generate the reservation and confirm it (an email will be sent to the address they register) within a period of no more than 48 hours before the issuance of the entry tickets.


There are currently four defined circuits at Machu Picchu right now:
You can read more about the four circuits and the rules of Entry of Machu Picchu here:
The visiting hours of the Intihuatana, the Templo del Cóndor, the Temple of the Sun, The Sun Gate (Itipunku), Machu Picchu Mountain, Huayna Picchu and the Inka Bridge (Puente Inka) will not be available for tourist visits until further notice.
December 4, 2020: The month of November continued to show overall improvement after two months of being mostly opened up across the entire country. As many countries are seeing wave after wave, Peru has seen improvements month after month.

| | |
| --- | --- |
| MONTH | DEATHS PER DAY |
| November | 50.1 |
| October | 64.3 |
| September | 115.6 |
| August | 190.9 |
| July | 188.4 |
| June | 175.6 |
| | | |
| --- | --- | --- |
| MONTH | HOSPITALIZED | UNDER ICU CARE |
| November | 4022 | 958 |
| October | 5270 | 1041 |
| September | 7511 | 1353 |
| August | 12162 | 1493 |
| July | 13700 | 1416 |
| June | 11108 | 1212 |
| May | 8868 | 975 |
| April | 5287 | 658 |
| March | 198 | 56 |
As you can see from both of these charts (taken from explorecuscoperu) that the number of deaths per day and the number of hospitalizations and those under ICU care are decreasing.
COVID-19 Vaccines
According to Andina, a Peruvian news source, Peru is preparing to distribute COVID-19 vaccines to all of its inhabitants through a strategic distribution plan that will take place throughout 2021. That vaccination process will start in the first quarter of 2021. The Presidency of the Council of Ministers is coordinating with the Ministry of Health, the Social Health Insurance System, the Armed Forces, regional and local governments, the private sector, and churches and volunteers to distribute these vaccines as efficiently as possible.
European Flights to Peru
The Minister of Transport and Communication, Eduardo González Chávez, announced that international flights to Amsterdam, Madrid, Barcelona, Paris and London would resume on December 15, 2020. These trips will allow citizens to resume their work and commercial activities, continue with health treatments or be reunited with family.
December 21, 2020: President Francisco Sagasti announced this morning that some specific measures would be taken due to the new COVID-19 variant detected in the United Kingdom including the suspension of flights from Europe for two weeks.
Read more:
What has been the impact of the Coronavirus Pandemic (COVID-19)?