21 Best Things to Do in Lima | Of all the places to visit in Peru, Lima has to be somewhere near the top of your list – if only because you'll definitely be passing through its airport. But it's well worth a stopover, particularly as there is a wealth of things to do in Lima, Peru's capital city.
Join us as we run through the top 21 Lima tourist attractions that will allow you to experience this multifaceted city from all different angles, starting with its elegant colonial heart and even older Inca ruins, through to its modern side full of delicious cuisine and unmissable nightlife. Continue to read: 21 Best Things to Do On Your Next Trip To Lima.
21 Best Things to Do in Lima
1. Explore Lima's picturesque heart in the Plaza Mayor
This is where it all began: Plaza Mayor, in the city's old center. It's not hard to notice that the buildings surrounding the square are pretty old. The Cathedral was built in the 18th-century, although the original building here dated back to 1535. For a truly ancient building, Casa de Aliaga, a block north, also dates from that year and is considered the oldest colonial mansion in the continent.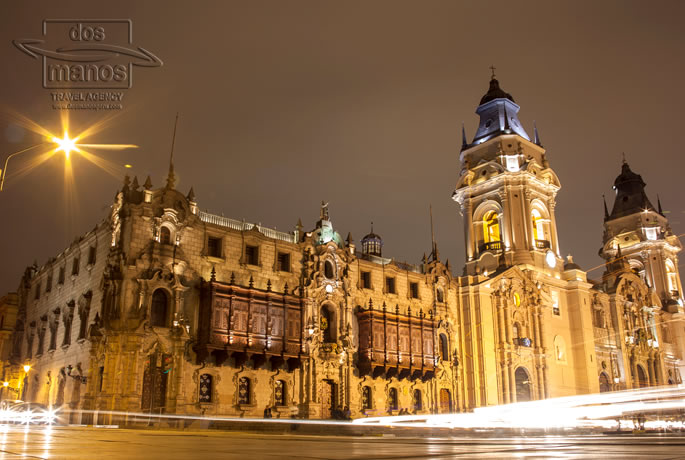 2. Blush over erotic pottery at the stupendous Museo Larco
Known as the Museo Arqueológico Rafael Larco Herrera (or the Museo Larco if you're not into tongue-twisters), this museum is packed quite literally to the rafters; it has 45,000 artefacts in total. Its pre-Columbian exhibits including an entire erotic section – guaranteed to leave you blushing.
3. Explore the Museo Nacional de Antropología, Arqueología e Historia del Peru
Again, you'll be struggling to say the name of this museum after a pisco sour or two, but this museum has an impressive collection of mummies from across different Peruvian cultures, which may or may not leaving you struggling to get to sleep later that night!
4. Meet Lima's oldest residents at the catacombs of the Iglesia San Francisco
It sounds a little morbid, but the tour of the catacombs beneath the San Francisco church and convent are truly fascinating, particularly as they contain the bones of around 70,000 dead bodies.
5. Throw yourself off a cliff on the coast
Coastal Lima is a popular sport for paragliding, particularly in the evenings where you can admire a watery sunset as you soar above the city.
6. Wander through Barranco's mansion-flanked streets
Barranco's bar season might be the reason this trendy neighbourhood has caught travellers' attention and ranks as one of Lima's main tourist attractions, but did you know that it's also home to streets filled with slightly crumbling 20th-century mansions along Avenida Sáenz Peña , which only adds to the quirky atmosphere here.
7. See final portraits of Princess Diana at MATE
MATE is an unexpectedly fantastic little museum tucked into the south of the Barranco neighborhood and makes for one of the popular things to do with a day in Lima. It's dedicated to fashion photographer Mario Testino, who famous took the final official portraits of Lady Diana before her tragic death in 1977.
8. Cuddle some cats in Parque Kennedy
Right at the center of the Miraflore neighbourhood, Parque Kennedy is the site of a great handicraft market in the evenings, but it's probably better known as the home of thousands of stray cats, most of whom were kicked out by their owners and have ended up living here. Luckily, a local charity takes care of them and most are adorably friendly and will crawl onto your lap for a cuddly.
9. Discover Peru's world-class dining scene
Dining at a fancy restaurant has got to rank as one of the top things to do in Lima. It probably hasn't escaped your notice that international dining critics have been raving over Peruvian cuisine for a long while now and it only takes booking a meal at Astrid and Gaston or Central to understand why. It won't be a cheap night but to experience innovative food that draws heavily on the country's unique agricultural heritage, there's no better way. Alternatively, take a culinary tour of Lima to really get your teeth into the local food.
10. Dine on Peru's most mouth-watering ceviche
Ok so there's a school of thought that the freshest, tastiest ceviche (fish cooked in lemon juice) you'll find is actually further north along the coast. But the options in Lima come pretty close. Punta Azul is a an affordable chain of restaurants specializing in the dish while Chez Wong is more expensive (and exclusive – make sure you book) but reputedly the best ceviche in the city.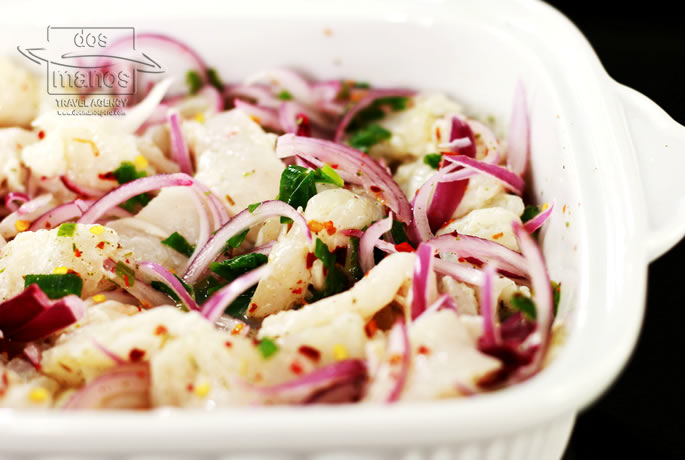 11. Sup on the city's favorite spirit, pisco
It's no secret that the Peruvians love their national cocktail, the pisco sour. And you probably will too; so head over to the Museo de Pisco, half a block from the Plaza de Armas, for a proper introduction to the drink. They have around 100 types piscos on offer, plus a whole host of different cocktails featuring the spirit. Live folkloric and jazz music are also pretty much guaranteed.
12. Party at a peña in Barranco
If you don't know what a peña is, then this definitely has to join your list of what to do in Lima. A peña is a traditional bar, where dancing to traditional, folkloric music is how you pass the night. The best are in Barranco and the surrounding neighborhoods; give it an hour or so and a couple of drinks and you'll be up and dancing with the best of them.
13. Stop in Chinatown for a chifa
Lima has a sizeable Chinese population, who are responsible for the creation of the cuisine chifa. It's basically a Peruvian spin on traditional Chinese dishes and rather tasty at that and you'll find the best restaurants in the heart of the Chinese quarter, Barrio Chino.
14. Make chocolate at Choco Mundo
You might not know it, but there are parts of the Amazon jungle where cacao is grown. Find out more about this bean and the tradition of making chocolate across Latin America at Choco Mundo, where you can also join a chocolate making class for some real hands on action and an unmissable thing to do in Lima.
15. Take a stroll along the Miraflores malecón
Miraflores borders directly onto the ocean and has a long promenade known as the malecón. Along with panoramic views of the coast, this pedestrianized walkway has opportune spots for taking a break, the prettiest of which is the mosaic-decorated Parque de Amor (Park of Lovers).
16. Enjoy the light show at the Circuito Mágico del Agua
For pure night time entertainment, nothing beats the Circuito Mágico del Agua in Parque de la Reserva. Twelve fountains are made to dance to music with a accompanying light display, making this a wonderful place to spend an enjoyable hour before heading out for dinner.
17. Surf on Lima's best beaches
You'll be surprised by how close the surf is to the city, with the best beaches in Lima for surfing at Waikiki and Makaha Miraflores, both of which are great for beginners. Just remember you'll want a wetsuit as the Humboldt Current means the water's always on the fresh side.
18. Travel through 3,000 years of history in the Museo de Arte
If you're a fan of history, don't miss the exceptional MALI museum, which manages the quite impressive feat of covering 3,000 years of art in one old colonial mansion, with important artefacts from pre-Hispanic cultures and paintings from the Cuzquena school of art.
19. Learn about ancient textiles at the Museo Amano
Set in the Miraflores district, this museum contains an extensive private collection of textiles narrating Peru's important history of weaving and covering thousands of years of ancient Peruvian cultures.
20. Visit Miraflores' oldest landmark: the Huaca Pucllana
It's a bit surprising but one of Lima's top tourist attractions is actually an old Inca ruin, which sits right in the middle of Miraflores. The Huaca Pucllana was built somewhere around 700 AD and the ruined walls of this once important temple give a sense of what ancient Lima might have looked like before the Spanish arrived.
21. Learn Spanish in Lima
21 Best Things to Do in Lima? There's no better way of preparing yourself for a trip around Peru than getting to grips with the local lingo. Even better still, learning at a Spanish language school in the capital allows you plenty of time to see the rest of Lima's top tourist attractions at the same time as studying.
Ready for a trip to Peru now? We hope you enjoyed: 21 Best Things to Do On Your Next Trip To Lima.
Please contact us if you want any help planning your trip to Peru!

Do you want to read this article in Dutch?